Ham Radio for Arduino and PICAXE
Edited by Leigh L. Klotz, Jr. WA5ZNU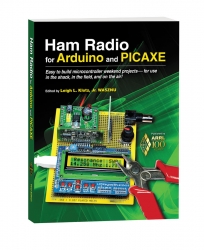 Our new book from the ARRL, Ham Radio for Arduino and PICAXE is nearly here. The book is a collection of projects by active, dynamic amateur radio operators, and ready for you to use with your Arduino, PICAXE, or Atmel microcontroller.
You will:
Build one of the projects in a weekend, and have something you can use around the shack or in the field.
Learn to customize and extend the hardware and the software.
Solve real problems yourself, using easy-to-use tools and techniques.
Choose from the Arduino, ATTiny, and Picaxe for your project.
---
Buy the book
---
Offical Book Companion Website
See the official book companion website HamRadioProjects.com for all the book downloads, examples, and references.
---
Pacificon 2012 Talk
See the slides for the Pacificon talks here.
Download the Arduino Sketch and schematics here.
---
WA5ZNU Cookbook